Lorin Maazel
(photo by Chris Lee)
Well beyond my understanding or appreciation, classical music maintains a lasting tradition of summer festivals motivated mostly for the cultivation of emerging artists. We think readily of examples named Tanglewood and Aspen, seeing them on the biographies of all major concert artists as rites of passage to supplement their formal conservatory educations. The incidental fruit of this tradition is its public's access to these talents on display for an off-season diversion away from city sprawl. In the Washington, D.C. area, sadly Wolf Trap never quite cuts it. Laudable as its opera program for young artists may be, the productions are flanked by a scattered season of pulpy programming (lately more than ever). This pop pageant violates the spirit of summer sojourn—nothing new is being "tried out" in the fresh outdoors of this otherwise precious woodsy getaway; merely old standards and revivals from tried and true (and old-aged) acts. Wolf Trap is no Spoleto, let alone Ojai or even Ravinia.
Tiresome as that complaint may be, it aims merely to stage the warm welcome for Lorin and Dietlinde Turban Maazel's
Castleton Festival
—now concluding its third year in youth. An expansion of their longer-lasting
Châteauville Foundation
(and literally, of their farmhouse), the Festival was founded around the time when Maestro Maazel concluded his appointment as Music Director of the New York Philharmonic. Centered in the Piedmont region of rural Virginia, the Festival expanded this year for the first time to an outer suburb of Washington, at the new Hylton Performing Arts Center in Manassas. An architectural triumph (while less successful on the inside), the Hylton Center is not just easier accessible to its nearest major market, but also…has good HVAC (compared to the Festival Tent on the farm), and credible acoustics. Moreover, the Maazels are expanding the reach of their Festival in its critical infancy.
For three consecutive Thursdays there, the Castleton Festival has delivered, first, Gershwin's Porgy and Bess, then Puccini's Il Trittico (minus one), and concludes tomorrow with a variety show sort of thing that rounds up American music to commemorate the sesquicentennial of Bull Run.
Less interested in the bookending Americana, I was thoroughly rewarded with the Puccini one-acts.
Il Trittico
is a marvel in Puccini's opus. Giacomo's aficionados readily swoon at the mere mention of his operatic triptych, which moves from a love triangle to a miracle play to a riotous farce. Sadly, it is rarely performed in whole (as intended), owing to a contemporary estimation of audiences' attention spans. First-to-go, usually, is
Suor Angelica
, though the Festival gave it (along with the others) their full due at the farm last year. For its Manassas appearance,
Il Trittico
delivered
Il Tabarro
and
Gianni Schicchi
with mostly the same casts from 2010.
Thinking of Il Tabarro in particular that started the July 14 program, you have in this one-act opera arguably the pinnacle of Puccini's mastery. Compared to Puccini's larger, evening-length works wherein the composer needed to contend with complex and epic literary narratives, each from Il Trittico is uncompromising musical perfection. Il Tabarro, for all its melodrama, has some of the most wrenching passages of "pure" music that Puccini ever wrote. Freed from set-piece villainry (that we can call, for need of a name, Franco Zeffirelli) and ambitions of scale, these melodic lines carry a primacy unlike, say, Tosca that hems and haws around its outsize characters and narratives. Remembering especially the searing duet between Giorgetta and Michele, of a husband wondering when he lost the affection of his wife, Puccini's delicate mastery between emotional heft and restraint is absolute. And Jessica Klein delivered these moments with expert nuance, while the particular surprise came in Andrew Stuckey's performance that poured open affection after a preceding dammed-up countenance. Il Tabarro certainly devolves into a rather old-world plot of murderous jealousy, and much screaming at the end, but at its center you can see and hear a certain timelessness, compact and true, about the agonies of lost dreams and points of decision in a marriage.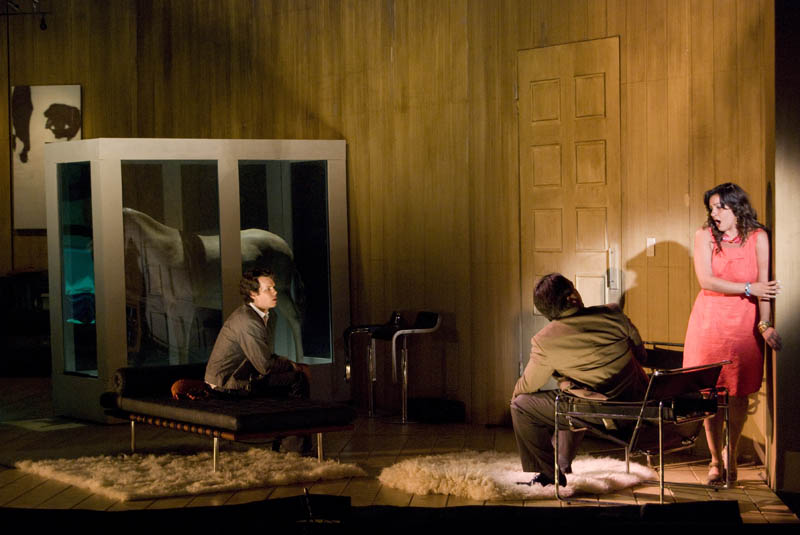 After all that,
Gianni Schicchi
is a 180-degree turn into drop-dead comedy, literally. Based upon a situational comedy of squabbling goofs trying to defraud a freshly decedent estate,
Gianni Schicchi
is a total hoot. It ranks among
Falstaff
, even much from Mozart, as a rare kind of laugh-until-it-hurts comedic spectacle. Interestingly, its central show-stopper "O mio babbino caro," so persistently excerpted in recitals for all its lush prettiness, is among the most reliably abused musical passages ever. Out of context especially, but sometimes even inside the opera, Lauretta usually swoons with virgin ambition and teary whimpering, when the moment actually calls for farce. "O mio babbino caro" is supposed to be sung flirty, manipulatively, and cow-towing to the back row of the auditorium. For the Castleton Festival, Joyce El-Khoury really got it right, and for me, perhaps better than I've ever seen. (Staged using modern dress for these Italian caricatures, I even dare say that the production designer was channeling Snooki.) As Washingtonians, we had the rare opportunity to attend
Gianni Schicchi
at the Washington National Opera in 2007—not quite this good.
All the same, you can't blame anyone for interpretive thriving within the sensuality of Puccini's score. Almost lackadaisically, the composer burns up some of the most gorgeous themes from his whole lifetime for the sake of slapstick. Rinuccio's paeans to Florence can easily arouse salutes to betray our faraway Yankee land, but Puccini is playing for laughs. That effortlessness, or even cockiness, is punk rock. At risk of committing hyperbole in saying so, Gianni Schicchi might be one of the greatest operas of all time, thereby timeless.
And this goes to the virtue of short-form opera altogether.
As I've crowed previously
, short operas (which are usually chamber operas) deserve much more serious attention, difficult as they may be for programming into conventional subscription seasons. Speaking personally, from the first time I heard the first notes of perpetual motion sprung from its waltzing overture, Leoš Janáček's
Osud ("Destiny")
has held the mantle for me above the whole operatic repertoire, no-matter-whose and however long.
Osud
runs about an hour. No one performs it. Musicologists pass it by for extolling
Jenůfa
, and the Czech's other evening-length works; but at least for me,
Osud
is unsurpassed.
As the third Castleton Festival concludes tomorrow at the Hylton Performing Arts Center in Manassas, with a variety concert featuring Denyce Graves, and lastly this weekend back on the farm, one hopes that Castleton, and the Châteauville Foundation, may long out-live its founders. As ornery as it may have seemed many years ago for our brightest lights in classical music to convene at a Colorado ski resort, rural Virginia easily should lead us through centuries of rich tradition, judging by the successful launch of this wonderful new Festival.
With unusual creative skill on a for-hire promotional piece, someone (unnamed!) made a moving documentary portrait that is worth every minute of your time for its quarter-hour running time: